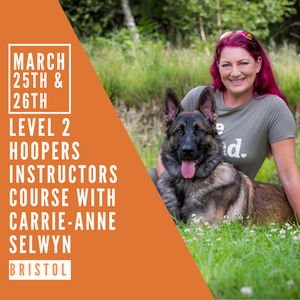 About the Workshop: 
The two day instructor course looks at progressing and adapting exercises, depending on the learners capability. Develop your Hoopers instructor skills by training with other CHWI to improve your understanding and knowledge.
More exercises for working through pivots and flicks, more exercises to build confidence and communication with your clients and their dogs.
Join Carrie-Anne Selwyn the founder of Canine Hoopers World on this two day course available exclusively to those that have completed the Canine Hoopers World Level 1 Foundation course.
Those that attend will be given over 20 new training exercises and new course designs. This course is a combination of theory and practical.
This is a two day workshop on Saturday March 25th and Sunday March 26th. The workshop runs from 10am till 4pm each day. 
Attendees will need to bring a dog with them. The dog doesn't need to be trained to a high level but should have some experience using hoopers equipment. 
About Carrie-Anne Selwyn: 
Carrie-Anne is the founder of Canine Hoopers World and the host of the Canine Hoopers World podcast. She is also a successful Hoopers competitor with her German Shepherd Dodge and a international speaker. 
Event Location: 
Bristol location TBD.