CLASSES AVAILABLE IN BRISTOL NOW
DOG ACTIVITIES IN BRISTOL
Join Our 7 Day Recall Challenge! Sign up & Get a FREE Lesson Emailed to You Every Day for a Week
Award-Winning Dog Training
We're grateful to have been declared the Best Dog Training Firm in Bristol by SME News & Dog Training Service of the Year by South West England Prestige Awards.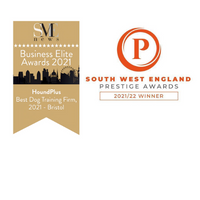 What other professionals say:
Highly skilled in dog training and behavior modification.

Dr. Jaxon Williams, Veterinary Cardiologist
Hound+ are simply fantastic. if you are local to them and want to find out all about dog training and behaviour then look no further.

Steve Goodall, Director at Professional Association of Canine Trainers (PACT)
The whole team were extremely accommodating to us and their general approach was spot on for my dog's needs. We've done 3 courses so far and are eager to do more!

Beckie Sexton, Manager at Chapel Farm Canine Creche
What our customers say:
We are on week 4 out of 5 of the training course for my rescue dog Louis and it is going really well. It is great to learn tips on how to encourage your dog and work with them and I have gained so much - as has my dog. Definitely recommended, I am delighted with the results so far.

Ferne Corrigan, CBeebies Presenter "My Pet and Me"
I have a completely crazy jack Russell named Trouble. He was an absolute nightmare outside of the house, pulls like a train, lunges into hedges and completely ignored me!! I can't tell you how glad I was to find Hound+. Nick and Livvy are so patient and they explain every thing really well. I was completely blown away when after our first training session, Trouble actually fell asleep in the car on our way home! something he has never done in his life. He now settles a lot quicker in classes and pays more attention to me when we are out. we still have a long way to go but with the support and help from Nick and Livvy I'm confident we'll get there. I absolutely recommend Hound+, they're amazing

Nik Claridge
I wouldn't hesitate to recommend Hound+. Nick and Livvy make a great team, they obviously love dogs and are very knowledgeable, patient and encouraging with owners and come up with great suggestions to overcome issues. I have been attending classes with Monty, a rescue dog from Cyprus, and would like to continue on to more advanced classes. 

Sarah Cox
Very knowledgable but keeps it simple and jargon free, our spaniel is a coming on in leaps and bounds. 

Gemma Addison
I can't wait to book in our next lot of training so we can learn even more.

Claire Garner
We have had 5 sessions so far and I can honestly say my confidence has grown so much within myself and my ability to train my dog effectively.

Sophie Mitchell