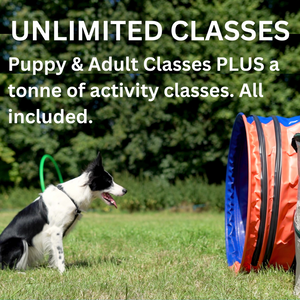 Imagine a gym membership but for your dog. Instead of being committed to one activity your dog might not enjoy for a pre-paid 4 or 8 week course, simply join our membership community and have access to everything we run. PLUS, you can attend as many classes as you like! 
As a member you can join our puppy classes, or our adult classes so we can help you through your training problems and help you have a well-behaved dog. But not only that. In dog training there is a saying... 
'If you don't give your dog a job, they'll go self-employed' 
Which inevitably means your dog will focus on doing all of the things you don't want them to do. That's why as a member you have access to all of our activities, so you can find the outlet that suits your dog best such as; Scentwork, Hoopers (similar to agility), Mantrailing (hide and seek on steroids), Rally (obedience made fun), Trick Training & more. 
Plus we don't do horrible contracts. Cancellable at any time with no additional fee. 
What Happens After I Sign Up? 
You will be automatically emailed a link to set up your profile on our exclusive members app. From the app you can book onto classes immediately. If you get stuck simply email us on info@houndplus.com or call on 07925790775. 
Your first week is free, after that you will be billed automatically weekly or monthly (depending on your selection). If you wish to cancel you can do so at any time without any additional fees. 
What's On Right Now? 
Monday: 
6pm: Scentwork at St. Augustine's Church, Whitchurch 
7:15pm: Trick Training at St. Augustine's Church, Whitchurch 
Tuesday: 
5:30pm: Puppy Class at DOGHOUSE Clifton 
7:15pm: Adult Class at Ashton Court Church Lodge Car Park
Wednesday: 
6pm: Puppy Class at Hengrove C of E Church
6:30pm: Rally at Ashton Park School 
7:15pm: Trick Training at Hengrove C of E Church
Thursday: 
6:15pm: Hoopers at Chapel Farm, Pensford
7:30pm: Hoopers at Chapel Farm, Pensford 
Friday: 
5:30pm: Puppy Class at Brislington URC 
6:45pm: Puppy Class at Brislington URC 
Saturday: 
10am: Hoopers at Clifton Downs
10:30am: Puppy Class at Ashton Park School 
11:15am: Hoopers at Clifton Downs 
12:30pm: Hoopers at Clifton Downs 
2pm: Scentwork at varied locations 
Sunday: 
10am: HoundPlus Social Walk at Ashton Court Church Lodge Car Park
12pm: Adult Class at Dundridge Park
2pm: Mantrailing at Varied Locations